Classroom Presentation Cart
From Longview ISD Technology Wiki
(Difference between revisions)
Line 16:
Line 16:

== Components ==

== Components ==

-

 

+
-

Epson Projector Remote Control

+

Epson Remote Control

-

 

+
-

[[Image:Epson410Wremote.png|thumb|left]]

+

:.png|

-

 

+

|

-

 

+
-

 

+
-

 

+
-

 

+
-

 

+
-

 

+
-

 

+
-

 

+
-

 

+
-

 

+
-

 

+
-

 

+
-

 

+
-

 

+
-

 

+
-

 

+
-

 

+

<br>

<br>

-

-

Elmo TT02RX document camera - consists of the document camera, stage (plastic white board), magnetic strip used with the stage to hold single sheet of paper in place, anti glare plastic sheet, and dust cover.

-

-

[[Image:ElmoTT02RX.png|thumb|left|Elmo TT02RX]]<br>

-

-

-

-

-

-

-

-

-

-

-

-

-

-

Polyvision Eno Stylus

-

-

[[Image:Eno-Stylus.png|thumb|left|Polyvision Eno Click Stylus]]

-

-

-

-

-

-

-

-

-

-

-

-

-

-

<br>

-

-

Polyvision Eno USB Bluetooth Resceiver

-

-

[[Image:Eno-usb.png|thumb|left|Polyvision Eno Click usb receiver]]<br>

-

-

-

-

-

+
+

Polyvision Eno Magnetic Strip (located on Eno Click Interactive Board)

Polyvision Eno Magnetic Strip (located on Eno Click Interactive Board)

[[Image:Eno-Magnet.png|thumb|left|Polyvision Eno Magnetic Control Strip]]<br>

[[Image:Eno-Magnet.png|thumb|left|Polyvision Eno Magnetic Control Strip]]<br>

-

-

-

-

-

-

-

-

-

-

-

-

-

-

-

-

-

-

-

-

-

-

-

-

-

-

-

-

-

-

-

-

-

-

-

-

CAD U7 omni-directional microphone

-

-

[[Image:CAD-U7.jpg|CAD U7 omni-directional USB microphone]]<br>

-

-

-

-

Qomo tablet with pen and USB receiver

-

-

[[Image:Qomo.jpg|thumb|left|Qomo QT30 wireless tablet]]<br>

-

-

-

-

-

-

-

-

-

-

-

-

-

-

-

-

-

-

SMART Response Receiver and 16 Student Response Clickers

-

-

[[Image:Clicker.png|thumb|left|SMART Response PE student clicker]]

-

-

-

-

-

-

-

-

-

-

-

-

-

-

-

Line 183:
Line 49:

Do not remove the Qomo and Eno receivers from the USB slots on the front of the Dell CPU.

Do not remove the Qomo and Eno receivers from the USB slots on the front of the Dell CPU.

-

<br>

+
-

 

+
-

 

+

<br>

<br>
---
Revision as of 18:10, 6 December 2012
What is it?
LISD provides each instructional classroom with a black metal locking cart containing technology tools. This presentation cart is assigned to the classroom teacher for his/her use and maintenance.
• Teachers returning to the district since 2012 should have already received a key to the presentation cart.
• Teachers new to LISD should contact the campus ITS for a cart introduction and to receive a key.
• Classroom teachers making plans for a substitute teacher should not include the use of presentation cart equipment.
• It is a violation of the LISD employee acceptable use policy agreement for a teacher to share his/her network password with a substitute teacher.
Connections
The presentation cart has a faceplate located on the left side of the front door. Two cables connect the cart from this faceplate to a classroom wall faceplate.
Components

SMART Response Receiver and 16 Student Response Clickers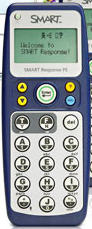 Polyvision Eno Magnetic Strip (located on Eno Click Interactive Board)

Dell Desktop CPU
Keyboard with trackpad
Two black plastic containers storing the Elmo microscope attachment, 2 extra RGB cables, small black box containing the Eno Stylus extra tips, and an assortment of manuals.
The Cart Faceplate houses 3 USB ports. These may be used for connecting your flash drive or an external mouse.
Do not remove the Qomo and Eno receivers from the USB slots on the front of the Dell CPU.
Elmo TT02RX document camera - consists of the document camera, stage (plastic white board), magnetic strip used with the stage to hold single sheet of paper in place, anti glare plastic sheet, and dust cover.
First Time Login on any classroom presentation cart:
Windows Media Player 11 Settings
Click Start button>All Programs>Windows Media Player
Click radio button by Custom Settings
Click Next
[[Image:]]

Remove all 7 checks
Click Next
[[Image:]]

Click radio button by Make Windows Media Player the default music and video player.
Click Finish
[[Image:]]

When the Windows Media Player window opens, Click Videos in the left menu bar.
Double click the video titled "Wildlife"
[[Image:]]

Turn up the volume control in Windows Media Player
FlipShare Settings
1. Click Start Button>All Programs>Flip Share
2. You will get an error message box.
3. Click Browse and navigate to your name>My Videos>Flip Share Data
4. Click the Flip Share Date Folder
5. Click OK
6. Flip Share will open
7. Close window
[[Image:]]